Tavasyam Empowers Spiritual Seekers at Shree Devdatta Ashram By Bridging the Gap Between Spirituality and Physical Well-being
Tavasyam Empowers Spiritual Seekers at Shree Devdatta Ashram New Delhi (India), July 11: Tavasyam, a leading health and wellness company, organized a transformative health and fitness workshop on June 11th, 2023, for 2,500 bhikshuks and sanyasis from Shree Devdatta Ashram. The workshop aimed to unite spirituality and physical well-being, creating a lasting impact on attendees of all […]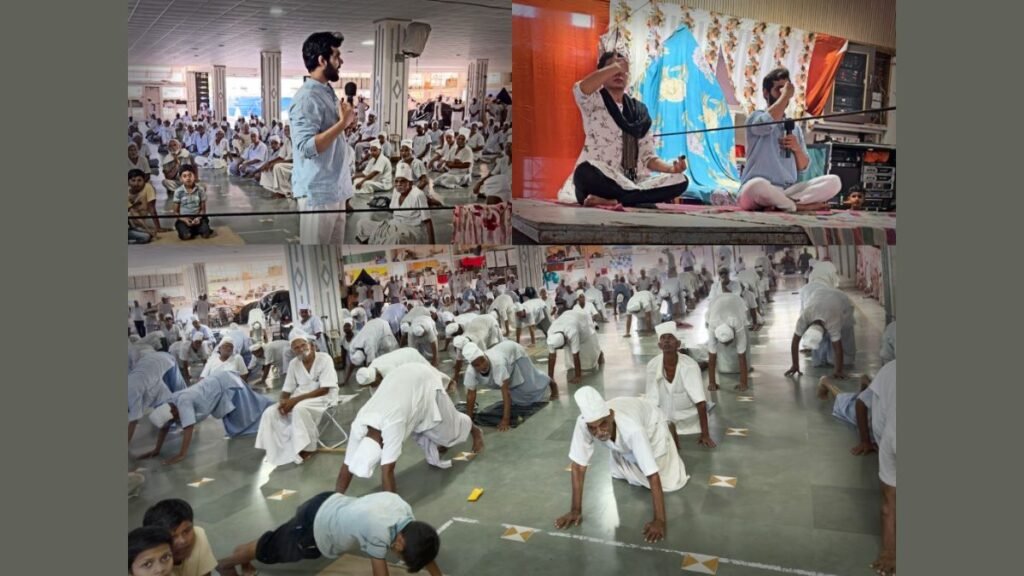 Tavasyam Empowers Spiritual Seekers at Shree Devdatta Ashram
New Delhi (India), July 11: Tavasyam, a leading health and wellness company, organized a transformative health and fitness workshop on June 11th, 2023, for 2,500 bhikshuks and sanyasis from Shree Devdatta Ashram. The workshop aimed to unite spirituality and physical well-being, creating a lasting impact on attendees of all ages.
For the first time in Shree Devdatta Ashram's history, the focus shifted to the physical aspect of spiritual growth. Tavasyam firmly believes in the essential connection between body and soul, leading them to organize this groundbreaking workshop. The founders of Tavasyam, Viren Singh and Keeran Patil, guided the attendees towards a more holistic approach to their spiritual journey.
The response from the spiritual seekers was remarkable. Participants ranging from 10 to 90 years old attended the workshop, showing their enthusiasm and appreciation for this unique initiative. Keeran Patil and Viren Singh addressed the crowd, highlighting the workshop's social health awareness initiative under Tavasyam's Project Mind and Body.
The collaboration between Tavasyam and the individuals from Shree Devdatta Ashram, including Ranjnandini Bai, Avadhut Muni, Amol Ankur Dada, and others, played a pivotal role in the event's success. Over the course of three hours, the workshop immersed attendees in foundational yoga and pranayama exercises. The workshop also addressed prevalent medical issues such as high blood pressure, diabetes, back pain, neck pain, knee pain, and thyroid conditions. Expert guidance and tailored exercises were provided to help individuals overcome these challenges and reclaim their health.
Gratitude and appreciation filled the atmosphere within the workshop. Attendees expressed heartfelt thanks to Keeran Patil, Viren Singh, and the entire Tavasyam team for their dedication and vision. Spiritual seekers left feeling inspired, knowing that their spiritual journey could be complemented and enhanced by nurturing their physical selves.
Tavasyam's commitment to bridging the gap between spirituality and physical well-being resonated deeply with attendees, leaving them with a renewed sense of purpose and determination. By recognizing the significance of physical well-being on the spiritual path, Tavasyam has opened new doors for spiritual seekers, inspiring them to embark on a journey that nurtures both the body and the soul.
For more information, visit – www.tavasyam.life
If you have any objection to this press release content, kindly contact pr.error.rectification[at]gmail.com to notify us. We will respond and rectify the situation in the next 24 hours.