Kashika Kapoor announces the title of her upcoming film Ayushmati Geeta Matric Pass, says, "This movie will showcase a strong message where Geeta will write and the entire world will listen
Kashika Kapoor who is one of the youngest talents in the Bollywood industry has always amazed the audience with her stunning looks and marvelous acting skills the actress recently on her birthday announced the title of her debut film by sharing an announcement video on her social media along with the actor Anuj Saini and […]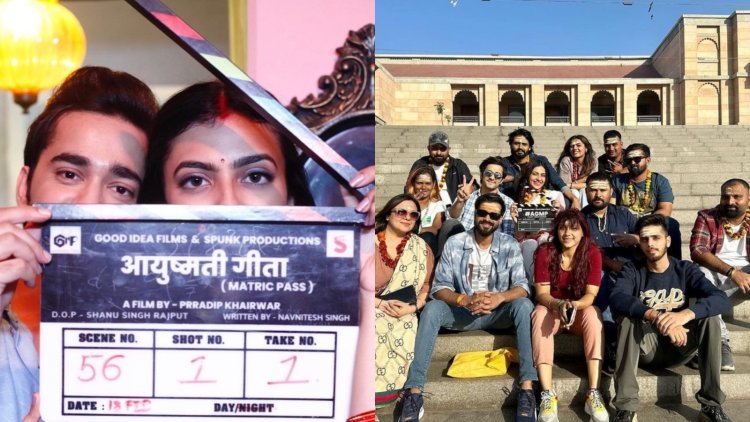 Kashika Kapoor who is one of the youngest talents in the Bollywood industry has always amazed the audience with her stunning looks and marvelous acting skills the actress recently on her birthday announced the title of her debut film by sharing an announcement video on her social media along with the actor Anuj Saini and Director Pradip Khairwair.
On Feb 18th the actress turned 21 years old and gave a surprise to all her fans by announcing the title. She took to her social media and shared a video that showed Introducing Kashika Kapoor and Anuj Saini. The film also stars Alka Amin and Atul Shrivastav, Good Idea film, and Spunk Productions present AGMP. The film is helmed by Prradip Khairwair. The video is captioned as, "इक उम्मीद से इक दास्तान तक की
ये उड़ान है आँगन से आसमान तक की…गीता लिखेगी जो कहानी, सुनेगी दुनिया सारी…"(
From one hope to one story This is a flight from the courtyard to the sky…the story that Geeta will write, the whole world will hear).
For the unversed, Kashika will be portraying the character of Geeta, through her debut film. where she will also be showcasing her extremely impressive acting skills with a bunch of emotions involved. This 21-year-old actress is all set to be the next big name in the tinsel town with Ayushmati Geeta Matric Pass.
Check out the video now
Expressing her emotions the actress says, "Finally I am so happy to announce my debut Bollywood film. This film is very close to my heart, not just because it's my very first, but also because of the message it gives out to society. We are currently in Varanasi filming our film, and can't wait to meet the audience at the theatres soon. This movie will showcase a strong message where Geeta will write and the entire world will listen"
Kashika further went on to say, Working with Prradeep Khairwar sir and Anuj Saini, has been nothing less than a dream. I am very happy to start my journey with such talented cast and crew. Geeta isn't an easy character to play on screen. But I am very grateful that I landed such a strong female centric film for my debut project. I have worked very hard to land such a project and start my career in Bollywood so alI I can say now is that we are really putting lots and lots of hard work into this and I hope that once the film is out the audience will love it and shower their blessings on us"
As the actress shared, people rushed to her comment section and showered it with all love to which one wrote, "Yo Ab Hoga Dhammal ..



" to which another wrote, "Congrats on the good work
".
We can't wait to see this talented actress's stellar performance on the big screen; stay tuned for more updates with us.