Introducing the Latest Shyam Baba Bhajan: "Kalyug Ka Avtari" by Sudhir Bagdi
SSR MUSIC PRODUCTION has released a captivating new Shyam Baba bhajan titled "Kalyug Ka Avtari," performed by the talented Sudhir Bagri. This soul-stirring song has already caught the attention of devotees and music enthusiasts alike. With its powerful lyrics and mesmerizing melody, "Kalyug Ka Avtari" promises to become a favorite among spiritual music enthusiasts. Sudhir […]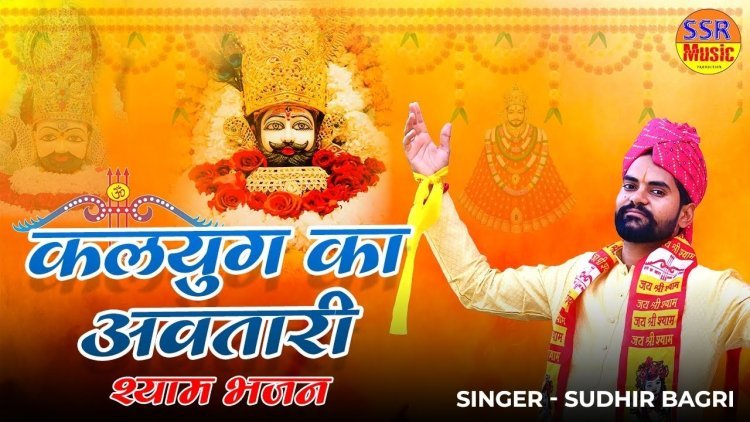 Introducing the Latest Shyam Baba Bhajan: "Kalyug Ka Avtari" by Sudhir Bagdi
SSR MUSIC PRODUCTION has released a captivating new Shyam Baba bhajan titled "Kalyug Ka Avtari," performed by the talented Sudhir Bagri. This soul-stirring song has already caught the attention of devotees and music enthusiasts alike. With its powerful lyrics and mesmerizing melody, "Kalyug Ka Avtari" promises to become a favorite among spiritual music enthusiasts.
Sudhir Bagri, the singer and writer of the song, has poured his heart and soul into creating this divine composition. Bagri's passion for music and his deep devotion to Shyam Baba shine through in every note. His heartfelt rendition is sure to strike a chord with listeners, instilling a sense of devotion and spiritual connection.
Not only did Sudhir Bagri lend his soulful voice to "Kalyug Ka Avtari," but he also took charge of the production, ensuring that every aspect of the song's creation was carried out to perfection. Bagri collaborated with director Mahendra Saini to bring this musical masterpiece to life, while Saini also showcased his talent as the Director of Photography.
The poster for the song was beautifully designed by Sunil Kumawat, capturing the essence and spirituality of the composition. The song's production was sponsored by Shriram Pustak Bhandarm, a patron of the arts and supporter of spiritual endeavors.
The team behind "Kalyug Ka Avtari" extends their gratitude to several individuals, including Shriram Saini, Harikishan Ji Rao, Manoj Ji Chodhry, Sunil Pataniya, Mukul, Manish Pandla, Hari Singh, Mahesh Ji Yadav, K. K. Saini, Subesingh, Mahendra Saini, and Lalit IT Expert. Their contributions and support have been invaluable in bringing this divine creation to the world.
SSR MUSIC PRODUCTION, the driving force behind the release, ensures that all copyrights are reserved to SSR MUSIC and Sudhir Bagri. This dedication emphasizes their commitment to preserving the integrity and originality of the song.
"Kalyug Ka Avtari" is an offering of love and devotion to Shyam Baba, a spiritual experience that transcends boundaries. Sudhir Bagri's talent and passion combined with the collective efforts of the team make this song a true gem for all lovers of spiritual music.