Y4D Foundation and Hindustan Coca-Cola Beverages Join Hands to Empower 25,000 Women with Financial and Digital Literacy across India
New Delhi (India), September 8: Y4D Foundation, a leading non-profit organization committed to women's empowerment, is delighted to announce its collaboration with one of India's leading FMCG companies, Hindustan Coca-Cola Beverages (HCCB) to provide comprehensive financial and digital literacy training to 25,000 women across the country. This strategic partnership underscores our shared commitment to advancing […]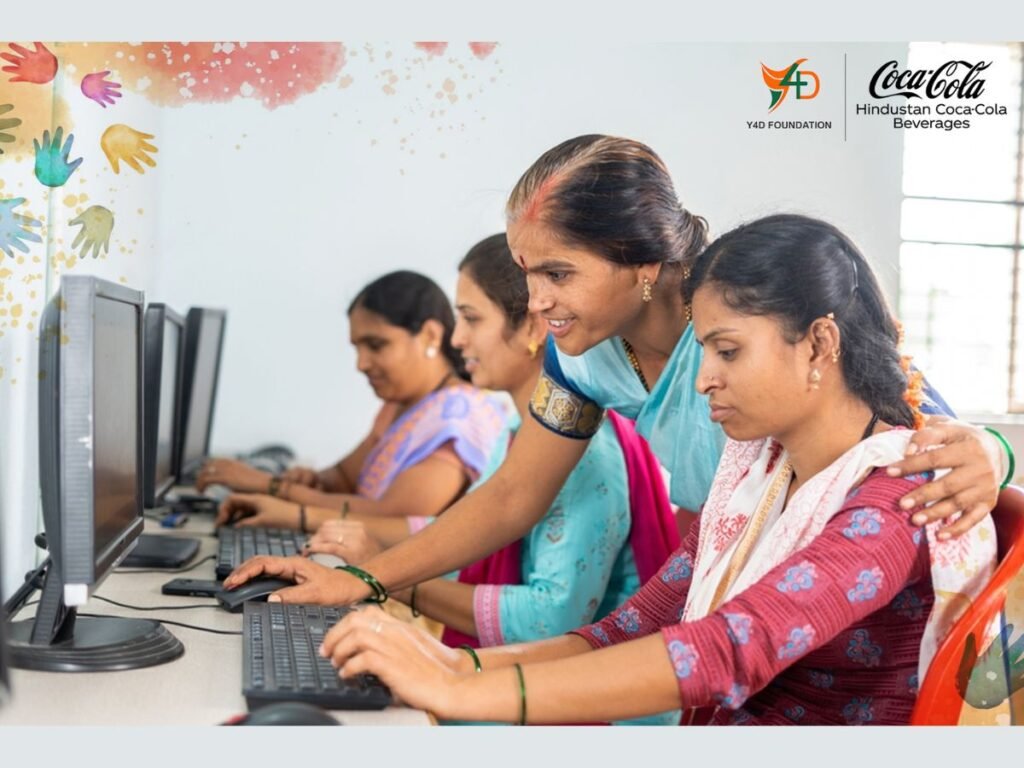 New Delhi (India), September 8: Y4D Foundation, a leading non-profit organization committed to women's empowerment, is delighted to announce its collaboration with one of India's leading FMCG companies, Hindustan Coca-Cola Beverages (HCCB) to provide comprehensive financial and digital literacy training to 25,000 women across the country. This strategic partnership underscores our shared commitment to advancing women's economic independence and fostering their digital competence. The initiative aims to bridge the skills gap and enhance financial and technological knowledge among women from diverse backgrounds. The training will include Financial Literacy, Opening Bank Accounts, Government Schemes for Women, Net Banking and Online Transactions, Policies and Savings Plans, Investment Plans, and Financial Safety and Security. Moreover, the digital literacy curriculum will cover essential topics such as understanding UPI and its operational mechanics, Mobile Banking, Digital Market Linkage, and Cyber Safety and Security.
These training sessions will be conducted in a classroom-based format at various locations nationwide, ensuring inclusivity and accessibility to women from diverse backgrounds. Y4D Foundation remains dedicated to breaking down barriers and eliminating the gender disparity in financial and digital literacy.
Himanshu Priyadarshi, Chief Public Affairs, Communications & Sustainability Officer at Hindustan Coca-Cola Beverages, expressed the company's commitment to fostering an equitable environment not just for its employees, but also for the communities it serves. Priyadarshi highlighted the importance of enhancing the financial literacy and digital capabilities of women, emphasizing their role in driving India's economic growth. He underscored that enabling underserved women to access financial services and technology is crucial for unlocking India's economic potential, aligning with Prime Minister Modi's call for women-led development and the significance of technology in promoting inclusivity, a point he has consistently emphasized in his G20 speeches.
Further elaborating on the project, Gaurav Sharma, Chief People Officer, Hindustan Coca-Cola Beverages, said, "At HCCB, people are at the core of what we do, whether it's our employees or the communities in which we operate. For us, empowering women isn't confined to HCCB as an organization but extends far beyond society, thus creating sustainable progress. The training sessions will work as impactful conduits to uplift and equip these 25,000 women with the required digital and financial skills and create a ripple effect of positive change in the larger community. We're glad to play a part in creating a more empowered, inclusive, and resilient society."
On this initiative, the President of Y4D Foundation, Praful Nikam expressed his enthusiasm for this transformative partnership, stating, "Partnerships strengthen Y4D's mission, and we are happy to collaborate with HCCB to broaden our initiative's impact. Empowering women through financial and digital education is the cornerstone of our mission, and this partnership will enable us to make a tangible difference in the lives of 25,000 women."
By enhancing financial literacy and digital proficiency, Y4D Foundation and HCCB aspire to empower women to seize control of their financial independence and capitalize on the opportunities presented by both government initiatives and the dynamic digital landscape. This collaboration symbolizes the united dedication of Y4D Foundation and HCCB to drive positive societal change and up skill women, thereby contributing to their economic and social empowerment.
About HCCB
HCCB was incorporated on 14th February 1997. Since then, HCCB has come a long way in being able to serve 25 lakh retailers, 3,500 distributors, and 6,000 employees. 250,000 farmers grow the agricultural produce that HCCB uses in making its products. The company is headquartered in Bangalore and its operations are spread in 22 states, 3 UTs, and 376 districts in South, West, and Eastern India. Through its 16 factories spread across India, it manufactures and sells 60 different products in 200 different sizes across 7 categories. Its products include some of India's most loved beverages – Minute Maid, Maaza, SmartWater, Kinley, Thums Up, Sprite, Coca-Cola, Limca, Fanta, etc. 
About Y4D
Y4D Foundation is a youth-led futuristic non-profit organization committed to empowering the economically underprivileged by empowering them through encouragement, education, and employment. With our extensive presence nationwide, we have made a positive impact on the lives of over 700,000 individuals through the implementation of over 140 successful projects. We firmly believe in the strength of collaboration, and as a result, we have established partnerships with more than 30 corporate entities.
For more information, visit www.y4d.ngo. 
If you have any objection to this press release content, kindly contact pr.error.rectification@gmail.com to notify us. We will respond and rectify the situation in the next 24 hours.